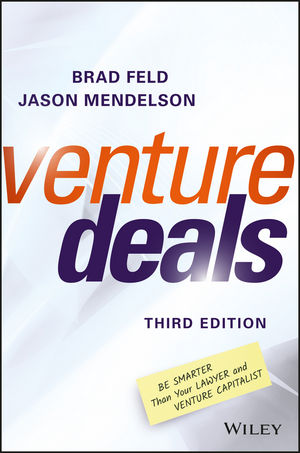 Book Overview
The book "Venture Deals" is co-authored by Brad Feld (from the Foundry Group and TechStars) and Jason Mendelson (also of the Foundry Group). Prefaced by the tag line "Be smarter than your lawyer and venture capitalist," the book aims to provide a general overview to the venture capital fundraising process for startup founders and employees, lawyers, and other venture capitalists.
Overall, I enjoyed reading this book. I read this book coming from a fairly limited understanding of finance and the basics of venture capital fundraising so I felt this book provided a solid understanding of the key players, vocabulary, and issues while also serving as a good reference document for the future. The book is fairly short, including a fairly extensive Appendix with example documents such as terms sheets and letters of intent. It was a relatively quick read and I'm sure I will re-read specific sections, if not the entire thing, again in the future.
A significant portion of the book focuses on various aspects of the term sheet, while the remaining sections detail topics such as alternative fundraising options, venture capital fund operations, negotiating tactics, and basic legal guidance. The book gets fairly technical in some portions in order to reinforce key concepts with detailed examples, however, these details aren't overwhelmingly complex. In addition to the author's perspective on the fundraising process, they also added comments from Matt Blumberg, CEO of Return Path in separate text boxes called "The Entrepreneur's Perspective." These are pretty useful as a summary of the key points and have some valuable additional insight.
Book Notes
For the rest of this post, I'm just going to highlight some of the quotes or concepts I found interesting or relevant as I progressed through the book. Some commentary is added where I felt it was relevant, but a lot of the content can stand alone.